Home
> Outline / Bus Business
Bus Business / Outline
As a pioneer of door operating equipment for buses, our company has always lead the industry by successively developing new products utilizing our rich experience and creative technical power.

We specialize in door operating equipment for folding and sliding doors which have long been popular with bus users throughout Japan. Best selling features include compact and lightweight design.

To cope with the wide diversity of buses on the market, our company has developed various types of door operating equipment which have been well received by bus users.
Bus Business
name
| | |
| --- | --- |
| 1 | Double glide door shutting device |
| 2 | Folding door-sliding door shutting device |
| 3 | Door shutting device for head-jamb style sliding doors |
| 4 | Driver's switch |
| 5 | Time limit relays |
| 6 | Interlock |
| 7 | Solenoid valve |
| 8 | Three-way cock |
| 9 | Door end switches |
| 10 | Photoelectric relays |
| 11 | Door operating equipment for swing door |
Double glide door / Sliding door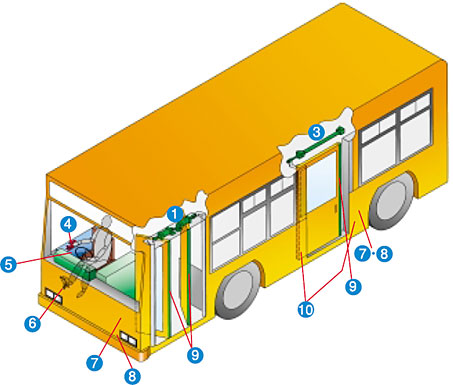 Folding door / Sliding door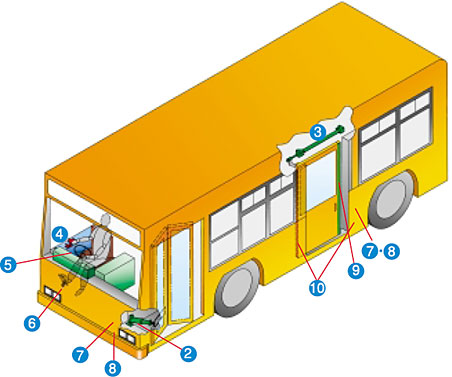 Swing door